Capsule Endoscopy
In this procedure, a capsule containing two cameras, light sources and a transmitter is swallowed by the patient. The capsule takes and transmits approximately 4 pictures per second as it travels the entire length of the digestive tract. Images are received by a sensor worn by the patient, who can go about normal activities during the 8 or so hours required. The capsule is about the size of a large vitamin pill and can be swallowed withouth difficulty.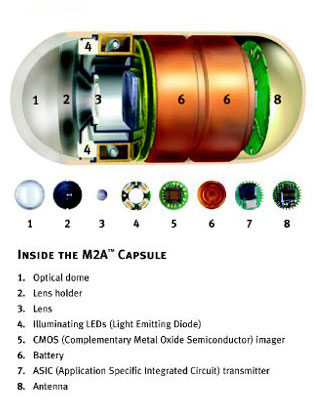 Capsule endoscopy is most often used to image areas of the small intestine which cannot be reached by other endoscopy procedures. It is used to investigate and diagnose such problems as internal bleeding, anemia, and suspected Crohn's disease.
Preparation for this procedure, when used to image the small bowel, requires fasting for at least 8 hours prior to starting the exam. When used to image the large intestine, a full bowel prep, like that for a colonoscopy, is required. No sedation is used, so there is no limitation on activity during or after the procedure.
Related Links
Online Services